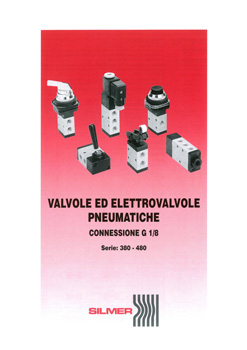 MECHANICAL-MANUAL / ELECTRICAL-OPERATING PNEUMATIC VALVES SERIES 380 – 480 G1/8 CONNECTIONS

This valves, built up with UNI 3571 Aluminium, are totally oxidate and are available in the following versions: Series 380 - 480 seals solidity (TG), size G1/8.
They are balance-coiled valves and their characteristic is the single movable element for the directional flow exchange, allowing the following advantages:
universal use of any three-way valve type. They can be employed both as an usual closed valve and as an open one (it is sufficient to reverse inlet and exhaust) and as a flow diverting valve as well
balance stability in every position because spool action is not affected by the feed pressure;
reduced maintenance as special oil resistant seals are stationary and the sliding of the nickel plated aluminium alloy coil with its inside surface microfinished, the wear is highly reduced.
All this characteristics, together with the response time and great capacity, allow exceptional performances and a proper, even and endless running.


TECHNICAL DATA
Maximum pressure: 10 bar

CV Coefficient: 0,6 mc/h

Working section: 19,63 mm2

Fluid: filtered, lubricated or not compressed air

Temperature: min –10 °C - max +60 °C


&nbsp &nbsp &nbsp

&nbsp &nbsp &nbsp